Kitchen Refurb
Sometimes what a house needs is the interiors equivalent of a 'Refresh' button. You know the feeling - you are bored of the kitchen, tired of the floor tiles but you can't justify the upheaval or expense of ripping out and starting from scratch. That was the case with this project. The kitchen was OK but uninspiring. There was a big empty space in the middle of the room, crying out for a breakfast bar. The wall cabinets hogged the little amount of light there was coming in from the corner window. So with some clever repurposing of cabinets and the introduction of other materials we set about re-inventing this kitchen to reflect the owner's taste and passions.
A splash of sunshine
Gorse yellow and granite grey-blue provided the colour inspiration for this light-filled corner. Colour co-ordinated rugs, lamps and cushions all helped blend the owners existing pieces with new ones.
Rustic details
The old kitchen had several issues:
it lacked texture - so we added heavily grained wooden details at the island and shelves
the wall units hogged the light at the window - so we took them down, repurposed the into an island and added extra storage in the form of open shelves
it lacked colour - so we painted the new rustic timbers in a soft grey-blue
it lacked character - so we gave it a seaside-y feel with rusted-iron brackets, striped fabrics and old timbers.
Display away
These stunning, hand made shelves are a work of art in their own right but are beautifully enhanced with the owner's tasteful collection of ceramics.
You can never have too much storage
The wall units we took down? We rehoused them in the island-come-breakfast bar. And for good measure we added an extra ledge at the far wall that acts as a coffee perch and a display area. As for the surf board - why not??!!
Repeated rhythms...
The introduction of black iron brackets on the open shelves and wooden pelmets reflects the black of the granite at the island and the charcoal splash back tiles. Similarly the heavy grain of the raw oak stools is mirrored in the rustic timbers of the island and the shelves and pelmets. Cleverly repeating details draws together otherwise disparate items.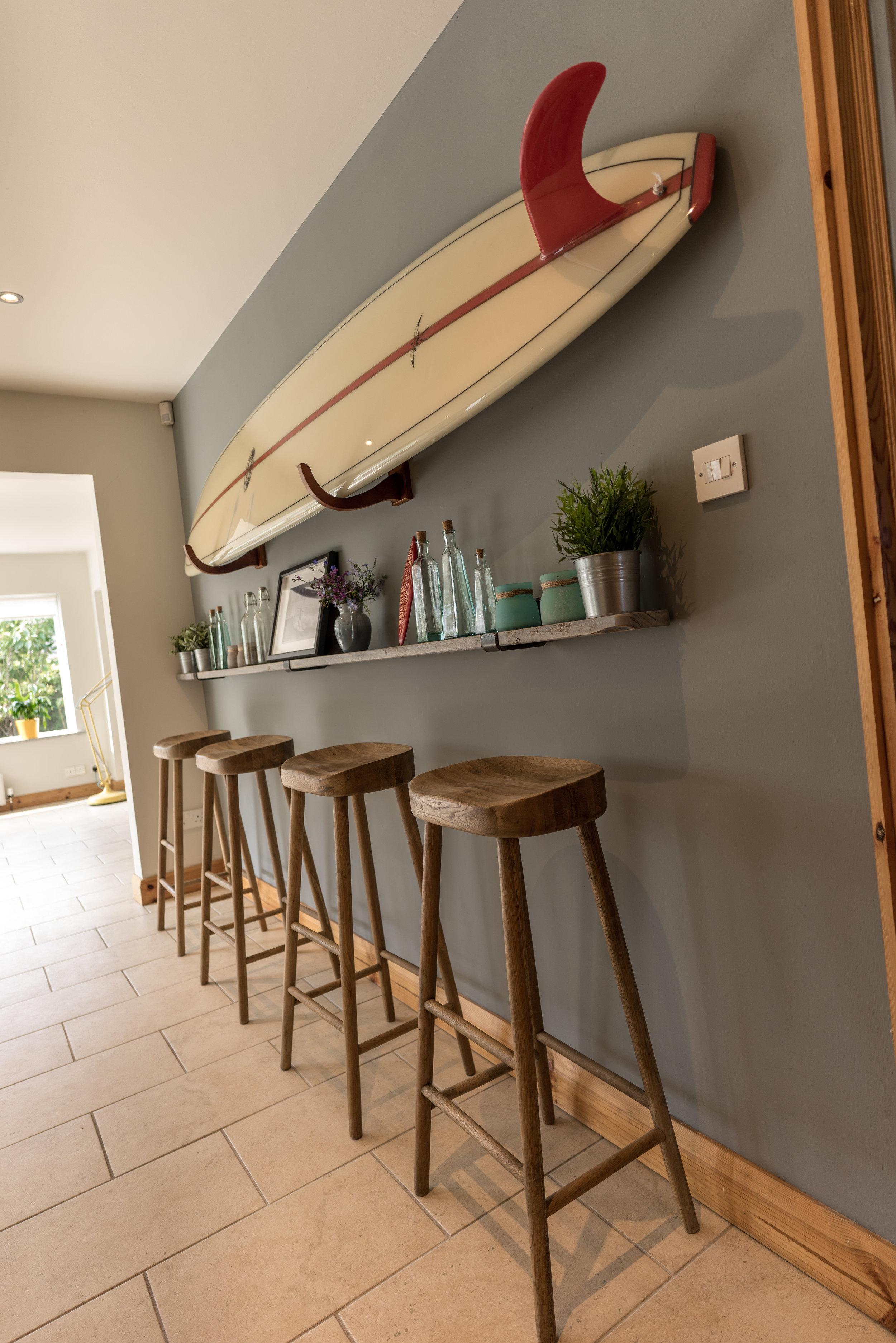 The kitchen is no place for a surf board
The number of coastal homes I go into where I am tripping over bikes and boards as soon as I walk through the door. So why not make a feature of them? This happens to be a special board but this wall was just asking for a large piece of artwork. The handy ledge we mounted underneath helps to frame this space.